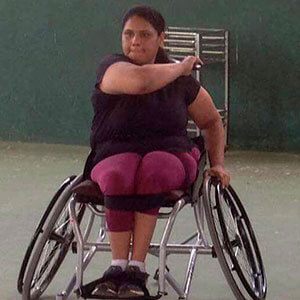 Raised Rs 0
Donors 0
Goal Rs 500000
My name is Madhu Bagri, a resident of Ahmedabad, Gujarat. I am India's first women wheelchair lawn tennis player playing internationally. At the tender age of 18 months, polio confined me to the wheelchair but it could not confine my spirits. I graduated in commerce discipline. My struggle and achievements have already inspired differently able people but amazingly enough, I see that able-bodied people are getting motivated too… At present apart then Tennis, I am simultaneously taking up Swimming to further strengthen my body.
Highlights
First Indian Women wheelchair to get a World Ranking by ITF. ( International Tennis Federation) can be verified at http://www.itftennis.com/wheelchair/players/player/profile.aspx?playerid=100260709
Holds Limca Book of Record 2017.
Have been selected in Power 100, an initiative by Divya Bhaskar selecting the top 100 residents of Gujarat for their valuable contribution in the progress of the state in different fields.
First women wheelchair tennis player in the country playing overseas.
Won " women with excellence award 2015 by IFICI flow.
Won " women quality marks award 2016 " awards based on the national campaign " beti bacho beti pado".
Twice the national champion in wheelchair tennis in a row.
Holds a silver medal in an international tournament 2015.
Donations can be given directly to the following bank account which is more preferable.
Our Bank Details:-
Name: Aditya Mehta Foundation
Bank: Dena Bank
Branch: RP Road
Account No: 056111023913
IFSC Code: BKDN0610561
Note: Once remitted, kindly send the following details to info@adityamehtafoundation.org.
1) Name of Remitter:
2) Amount transferred:
3) Date of transfer:
4) Bank transfer Reference Number: