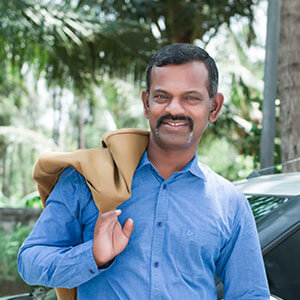 Raised Rs 163600
Donors 50
Goal Rs 500000
I have been riding a bicycle for over 5 years now, covering long distances regularly. I have been a part of the previous Infinity Ride from Bangalore to Hyderabad, and also the 2016 Tour de Rotary ride from Kashmir to Kanyakumari.
Professionally I have retired from a 28-year long stint in the Banking Industry, where I grew to become the Senior Vice President & Head of Customer Contact Centre at Kotak Mahindra Bank. I am currently enjoying an old hobby of mine on a small scale – carpentry. The products I put together are being well received by my social circle.
My wife Meena is the backbone of our home, and supports our various interests wholeheartedly. I have two grown up sons. The elder one is a budding cricketer who currently plays in the Tamil Nadu First Division League while pursuing his B.Com through correspondence. The younger one is pursuing a degree in design.
Donations can be given directly to the following bank account which is more preferable.
Our Bank Details:-
Name: Aditya Mehta Foundation
Bank: Dena Bank
Branch: RP Road
Account No: 056111023913
IFSC Code: BKDN0610561
Note: Once remitted, kindly send the following details to info@adityamehtafoundation.org.
1) Name of remitter :
2) Amount transferred :
3) Date of transfer :
4) Bank transfer reference Number :