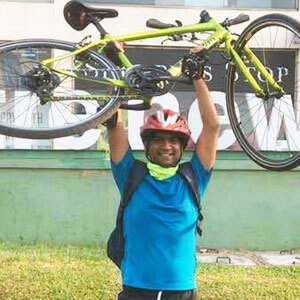 Raised Rs 50007
Donors 21
Goal Rs 500000
I am a mechanical engineer and a marketer currently working with Tata Steel. I enjoy watching movies and travelling.
Around a year back, I wanted to become fit and included running as a part of my daily regime. But due to medical reasons, I couldn't continue the same. As cycling is a low impact activity, doctors suggested me to make the switch. Its been around 6 months since I have started cycling and I feel like cycling is my true love. I am riding this year's Infinity Ride to test my mettle and create awareness that anyone, no matter of what age or medical condition, can ride and enjoy the beauty of nature.
I am currently working with Tata Steel as a Sr. Manager, Products.
My father is an Engineer working with NPCIL and mother is a homemaker.
I am a die hard fan of Batman and like to think of myself as an expert at cracking lame jokes. Whatever geographical knowledge I have is from my love for travelling and watching movies
Donations can be given directly to the following bank account which is more preferable.
Our Bank Details:-
Name: Aditya Mehta Foundation
Bank: Dena Bank
Branch: RP Road
Account No: 056111023913
IFSC Code: BKDN0610561
Note: Once remitted, kindly send the following details to info@adityamehtafoundation.org.
1) Name of Remitter:
2) Amount transferred:
3) Date of transfer:
4) Bank transfer Reference Number: