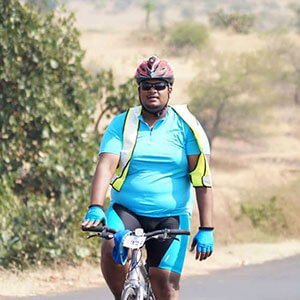 Raised Rs 43050
Donors 22
Goal Rs 500000
I was introduced to cycling 4 years ago when I was looking at means to stay fit. I started with solo riding, then moved to small group rides and later large groups. In the course of group rides, I got introduced to Aditya, who is an inspiration with his interest, ambition and the cause that he is working for. I can proudly state that I am friends with him now, and enjoy being a part of and supporting the Foundation's activities.
I was a part of the AMF Infinity Ride 2015 from Bangalore – Hyderabad, and wish to extend my hand in this genuine cause for AMF Infinity Ride 2017.
I'm a post graduate in Tourism Management and currently working with SOTC Travel Ltd.
Heading the Jubilee Hills Branch as Dy. Manager.
I'm Married and stay at Jubilee Hills.
I'm passionate about travelling to places, Motor Bike riding, exploring new places, and eating and cooking food.
I also try to maintain some physical fitness outside of my job.
Donations can be given directly to the following bank account which is more preferable.
Our Bank Details:-
Name: Aditya Mehta Foundation
Bank: Dena Bank
Branch: RP Road
Account No: 056111023913
IFSC Code: BKDN0610561
Note: Once remitted, kindly send the following details to info@adityamehtafoundation.org.
1) Name of Remitter:
2) Amount transferred:
3) Date of transfer:
4) Bank transfer Reference Number: