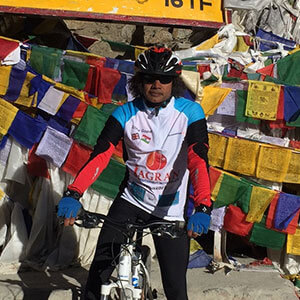 Raised Rs 44200
Donors 2
Goal Rs 500000
I am Shiva, and am working as a Consultant Trauma & Orthopaedic Surgeon in East Yorkshire, UK. I ride regularly to work and for fitness. I completed the London to Paris Ride with Aditya in 2013, and succeeded in the ultimate cycling challenge of cycling from Manali to Khardung La as a member of the Infinity Ride 2016. My wife Jayanthi did all the networking for the M2K Infinity Ride 2016 and helped raise over Rs 4 lakhs for the AMF. My brother Kartik who also successfully completed the ride with me raised over Rs 2 lakhs for the foundation. I also love mountaineering and play various percussion instruments including the drums.
Aditya is a personal friend since we rode together in the London to Paris. He is a true inspiration for what one can achieve even when one loses a limb. His tireless fundraising efforts to promote sport amongst the less abled including amongst those who sadly get injured in the line of defending our country is exemplary and highly commendable. I just want to lend my support to his mission by riding every year if I can.
Donations can be given directly to the following bank account which is more preferable.
Our Bank Details:-
Name: Aditya Mehta Foundation
Bank: Dena Bank
Branch: RP Road
Account No: 056111023913
IFSC Code: BKDN0610561
Note: Once remitted, kindly send the following details to info@adityamehtafoundation.org.
1) Name of Remitter:
2) Amount transferred:
3) Date of transfer:
4) Bank transfer Reference Number: