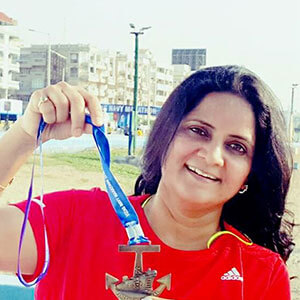 Raised Rs 186920
Donors 18
Goal Rs 500000
I am Sudha Kesavaraju, a just 44 yr old mother of two adorable children. My journey from a "no one" to a "regular participant " in various events has been very dramatic. In the year 2011, I started as a support staff at the request of one of my friends who was a regular participant in Running / Cycling events. While elderly participants have motivated me, Aditya inspired me to take up Cycling for a cause. His focus and determination for supporting para-athletes greatly influenced me. Aditya has been singularly aiming to build confidence and instill a "never give up" attitude amongst the physically challenged. So, here I am, to contribute for this noble cause and participate in this "Infinity Ride".
Am a full time mom of two beautiful girls and I enjoy every step of life with them …
My husband works in SA .
My passion is Photography.I love to spend time capturing moments.For me, it is a time to unwind and ponder over the activities of the day passed. Passion:
Trusting humans and helping the needy is my way of living. That's how I got influenced by the good work of Aditya and readily agreed to be associated
I really feel proud to be here with you all.
Donations can be given directly to the following bank account which is more preferable.
Our Bank Details:-
Name: Aditya Mehta Foundation
Bank: Dena Bank
Branch: RP Road
Account No: 056111023913
IFSC Code: BKDN0610561
Note: Once remitted, kindly send the following details to info@adityamehtafoundation.org.
1) Name of Remitter:
2) Amount transferred:
3) Date of transfer:
4) Bank transfer Reference Number: