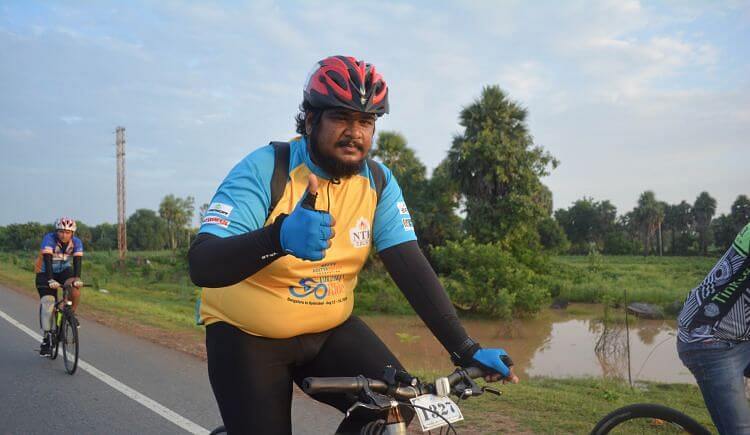 I am a Travel Expert by profession, a foodie which leads to my hobby of being a Home Chef and exploring, an avid traveler where again, I explore new places and move around in search for more, an enthusiast in Long Distance Bike & Motorbike Riding, Love Adventure Activities. I have been an active Volunteer of AMF and associated since 2015.
I took part in the Infinity Ride 2015, Infinity Ride 2017 and Infinity Ride 2019 to support the cause.
Why am I doing this?
The Aditya Mehta Foundation is a NGO that supports physically challenged people in our nation to pursue sports and support them from the grassroot level by providing counseling, training, equipment and help them to live a life with dignity. In the last five years the foundation has supported a surplus of 150 para-athletes with prosthetic limbs, specialized sports equipment, and sponsorships. This sort of support costs anywhere in between Rs 40,000/- to Rs. 5Lakhs per person. Many of these para athletes who seek support from the foundation have won more than 80 International medals for our country in various International Games. The Infinity Ride is a fundraising ride which helps the Foundation to support more such people, with the aim of
Helping more and more physically challenged people unlock their true potential and fulfill their true potential and lead more fulfilling lives, and
Putting up a strong Indian Contingent at the 2020 Paralympics.
This year the Infinity Ride 2020 , starts in November, from the northern state of Kashmir to the southern most part of India, kanyakumari ! I'm excited and honoured and eagerly looking forward to be a part of this experience.
You can have a look at the list of people they have supported over here:
https://adityamehtafoundation.org/sample-pagehttps://d1vdjc70h9nzd9.cloudfront.net/media/
It would mean a lot to the entire Foundation if you contributed to my fundraising campaign for this cause. To donate via NEFT (preferable), you can send money to the following account:
Name- Aditya Mehta Foundation
Bank- Bank of Baroda
Branch- MG road
Account Number- 66550200000791
IFSC code- BARB0DBMGRO